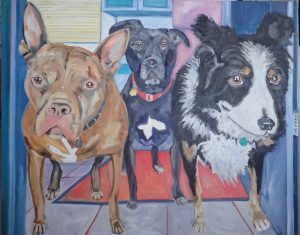 Human: Tony Paao Lipka, Chicago, IL U.S.A.
 After my dog Reilly passed from cancer, I knew that I'd eventually get another dog. A friend of mine that works in Bernese Mountain Dog rescue, knew I was looking for a Border Collie. "Rowdy," as Buddha was known as then, was found in Oklahoma, and mistaken for a Bernese Mountain dog because of his coloring. As soon as I saw the photo of him, I knew I had to get him. Having a friend in Oklahoma, she picked up Rowdy, met me in St. Louis, and I got him Memorial Day weekend 2009. Buddha has been a truly loyal companion since day one. Probably the most loyal canine I've ever had.   Where I'm at, he's by my side. 
As his Earthly time winds down, I know that it's going to break my heart to let him go. But I know, as with all the others before him, that I'll see him again.
Both Mandy & Frootloop I got from Humane Indiana. Mandy came into the mix about 4 or so years ago, when I had Buddha, Floyd, and a little girl named Missy (who passed in 2015, at about 15+ years old). I wasn't really looking for another dog, but, since I was so happy with how Floyd came to be, I thought I'd be able to get another out of the shelter.
Frootloop is a goofy one, hence his name. I often look at the shelter website, and I  noticed a photo of Frootloop on his back, doing the "Pittie Smile." I figured I had to meet him. So I went there and said "I want to meet the smiling pitbull." A volunteer who works there, Randy, told me that Frootloop just had a special soul. So I got him too.
Floyd passed last Halloween, and I really wasn't going to get another, because Buddha's legs are bad. But when Randy called and asked, I couldn't let Ohio (not pictured)  be euthanized for something beyond his control.