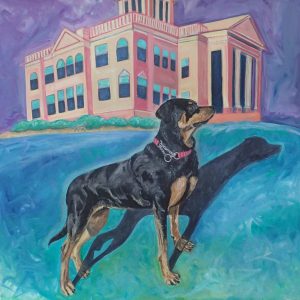 Humans: Brent, Tova, Greyden and Wyle Steinhofer, Decorah, Iowa, U.S.A
Luca-D (Love U Clyde, Ady and Deeter) came to our home May 2014. As anyone who has rescued a dog before would tell you, this was when we were rescued. Prior to our getting Luca, Tovah and I experienced a good deal of loss. Over the span of a year and a half we lost three dogs Clyde, Deeter and then Ady.
Although we were handed some pretty significant blows we were very pleasantly distracted with the birth of our first child. As time passed and even with little Greyden filling our lives with love and laughter,  we still missed the companionship of a dog in our home. When little Grey was six months we decided to contact the rescue. They had just received two puppies along with Mom and Dad from a rescue organization based in Cincinnati.
Mom, Dad and pups were removed from the home due to the deplorable conditions. The ASPCA was called to the home due to the living conditions as well as the health conditions of the dogs. Mom was still bleeding out at eight weeks and the owners chose not to do anything. We're not sure if this was a result of ignorance, laziness, financial trouble or all of the above. The puppies had nothing to eat since mom wasn't lactating (due to her poor condition) and they found no food in the home so it is assumed that they had been living off feces. Mom was in such bad shape she needed an emergency hysterectomy at just 18 months of age.
In fact, the home was so awful that the children were actually removed from the home as well.  
I shudder to think of what might have become of Luca had she not been taken out of there. I have never known a more affectionate dog in my life. She only wants love and attention and is truly a "Velcro dog". When we go for walks, if passersby ignore her she whimpers in disappointment.  I can only imagine what this amazing dog would have become had she continued down this road of neglect. We are so lucky to have her in our lives and the boys just adore her.
Luca-D has been a wonderful addition to our family and her and Greyden's bond continues to grow to this day. Our two little four year olds share a bond every boy and his dog should and our other son, Wyle,  is is always right there pulling at their coattails.