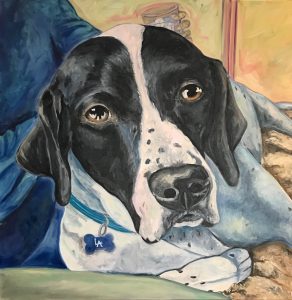 Humans: Gail Bolson and Karl Magnuson, Decorah, Iowa, USA
Molly was truly the best dog I could ever imagine. She never barked or chased squirrels or anything; at first she was very skittish and shy, but after living in our home for a while she loved absolutely everyone and just wanted to cuddle. Molly was found in an alley in Emporia, KS and after a brief stint with the Emporia Police Department, she went to the Great Plains Pointer Rescue in Omaha. She spent 3 months there, then went to a wonderful foster home in Des Moines.
 I saw her picture on Facebook and just knew she was looking for me. When we went to pick her up, she just came over and laid down on our feet, like she was saying "what took you so long?" The foster family said it was their policy not to let dogs go home with a potential family on the first visit but it was obvious she was meant to be with us. She jumped in our car and slept the whole trip home. The first night she was with us, she jumped up on my lap as we were watching TV and from that point on, it was her very favorite place to be.
Besides cuddling, her other favorite things were stalking and pointing at robins, and surveying "The Shire" from her stoop on the lanai. She LOVED walking in "The Shire" and had her specific route that she wanted to walk every day; up the road, across and into Upper Twin Springs, around the pines, up to the trail, back down the drive next to the ponds, and then follow the trail next to the stream to go home. She would always stare intently at the water, I think she was just hypnotized by the sparkle. When she got home, she would run for the backyard and sit on her stoop, surveying her little kingdom and looking for robins. Once when she was pointing at a robin in the yard, some people were walking by and stopped to watch her. She held her point for at least 5 minutes and I could hear them first asking each other if she was a statue, then taking pictures of her. She didn't move until I called her back to me.
We only had Molly for 6 years. We were told she was about 4 years old when we got her but her soul was much, much older than that. She passed away in 2018 of lymphoma.
It's just the little things that you miss when they're gone, you know? I still can't get used to opening the door and not having that smiling bright little face and wagging tail greeting me. As soon as you would say the word "walk" she would get so crazy excited and jump in complete circles. Just a few weeks ago, I was driving by the Good Dog Center and remembered an experience there with Molly. We were in the obedience class and Scott was going to test her. He was timing how long she would sit and stay with her eyes on the treat. She sat for so long that he actually was the one who gave up! It was so funny. I miss her every day.