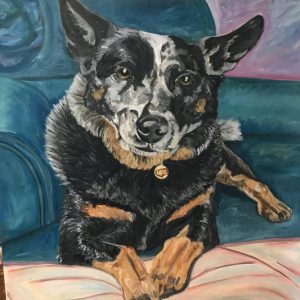 Human: Carlos Mendoza, Erie, Colorado U.S.A.
Maggie is an 8  year old Australian Cattle Dog. This breed, often called blue heelers or Queensland heelers, is originally from Australia where native dingos were breed to European breeds in an attempt to develop a dog suitable for working and herding cattle under hot dry conditions. Maggie is truly an example of the apple not falling far from the tree. As an 8 week old puppy Maggie instinctively would nip at my pant legs and shoes as I walked from one barn to another or even moved to the kitchen for a snack. She was relentless and I wondered what I had gotten myself into. A call to her breeder who is a friend and and breed and class winner at Westminster resulted in a brief response of "duh" and "don't be a wussy." Maggie was clearly already shaping my life. A few weeks later Maggie had given up ankle biting her owner but any visitor to the farm was likely to get the cattle dog style of greeting, an inquisitive charge followed by barking and likely some motivational nipping and biting to put you in your appropriate place. Not surprisingly, the men in brown driving the brown trucks were often found cornered next to a gate where she circled relentlessly pondering where they should be moved to a better spot.
Maggie's instinctive behavior has never been further trained but she likes things in their place on the farm. If a male llama gets out and wanders to the female field she will promptly herd him back to his pen where she will  stand at the gate waiting for further instructions. Maggie has thankfully also herded my entire group of female llamas back to their pasture, keeping them in a nice tight group,  after a midnight escape. Everything in its place I suspect is her comfort zone and she knows where everything is supposed to be. When the front door opens in the morning she invariably knows where I am going and which vehicle I will use to get there. As a family dog she might be terrible with children as she does not like to be fussed with and aggressively petted. She will tolerate visiting adults as long as she is left alone and will then jump in your lap for a brief interaction. I cannot imagine a better dog for my farm. She is bulletproof, reliable, and learns new commands almost instantly. I am quite sure that if there are cattle in heaven Maggie will be happily reunited with her litter mates busily chasing people and animals around until they are directed to proper spot.