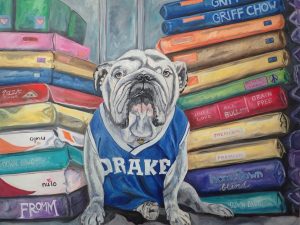 Human Erin Bell Des Moines, Iowa
 Griff was introduced as the official live mascot for Drake University in October 2015 at the age of 3.  He will serve in this role until he is retired to spend the rest of his life blissfully on the couch of his home in Beaverdale with his family.  Griff, a 56 pound English Bulldog, is 7 years old and has a mom, a dad, a 5 year old human brother, a 3 year old human sister, and a rescued English Bulldog sister named Lottie Lucille.  In addition to his full time job as mascot, Griff is also a foster brother for the Illinois English Bulldog Rescue. 
Prior to becoming the official live mascot for Drake, Griff was a champion show dog by the time he was 2 years old.  Once he achieved this, Griff's time as a show dog was over.  The family that raised and showed Griff loved him (and still do!) and wanted to find a great family for him to spend the rest of his long life with.  At the same time, his mom and director of the live mascot program at Drake was looking for the perfect dog to be the next Drake Bulldog.  The stars aligned and Drake ended up with a really special dog, perfectly suited to be its mascot.  
In his role as the live mascot for Drake University, Griff represents the university on all fronts.  He embodies the essence of the school and what is stands for, making continuous positive contributions to the community on campus and far beyond.  He is authentic and sincere, and he spreads kindness and positivity wherever he goes.  Griff is approachable and accessible to all.  He assists with Admissions, Alumni and Development, Athletics, marketing, countless student organizations and events, and much more.
Griff is a certified therapy dog through the Animal Rescue League of Iowa's TheraPets Program.  He visits a local special education class about once a month at Delaware Elementary.  He also visits a local adult day center that assists people suffering from the effects of things like traumatic brain injuries and dementia.  Additionally, he visits kids at Orchard Place and elderly at Ramsey Village.
Drake is our "Des Moines' Hometown Team" and Griff is "Des Moines' hometown dog."  Griff belongs to everyone!
Griff spearheads an annual pet food drive called "Griff Gives Back."  Griff Gives Back benefits The Pet Project Midwest, a local non-profit organization that lends assistance to people when times are tough so pets can stay out of shelters and in the homes where they are loved.  This Spring, in the fourth annual Griff Gives Back pet food drive, Griff raised 16,000 pounds of food for area pets in need, doubling the previous record.
He is present and active on social media, including Facebook, Twitter, and Instagram at @DrakeUGriff.