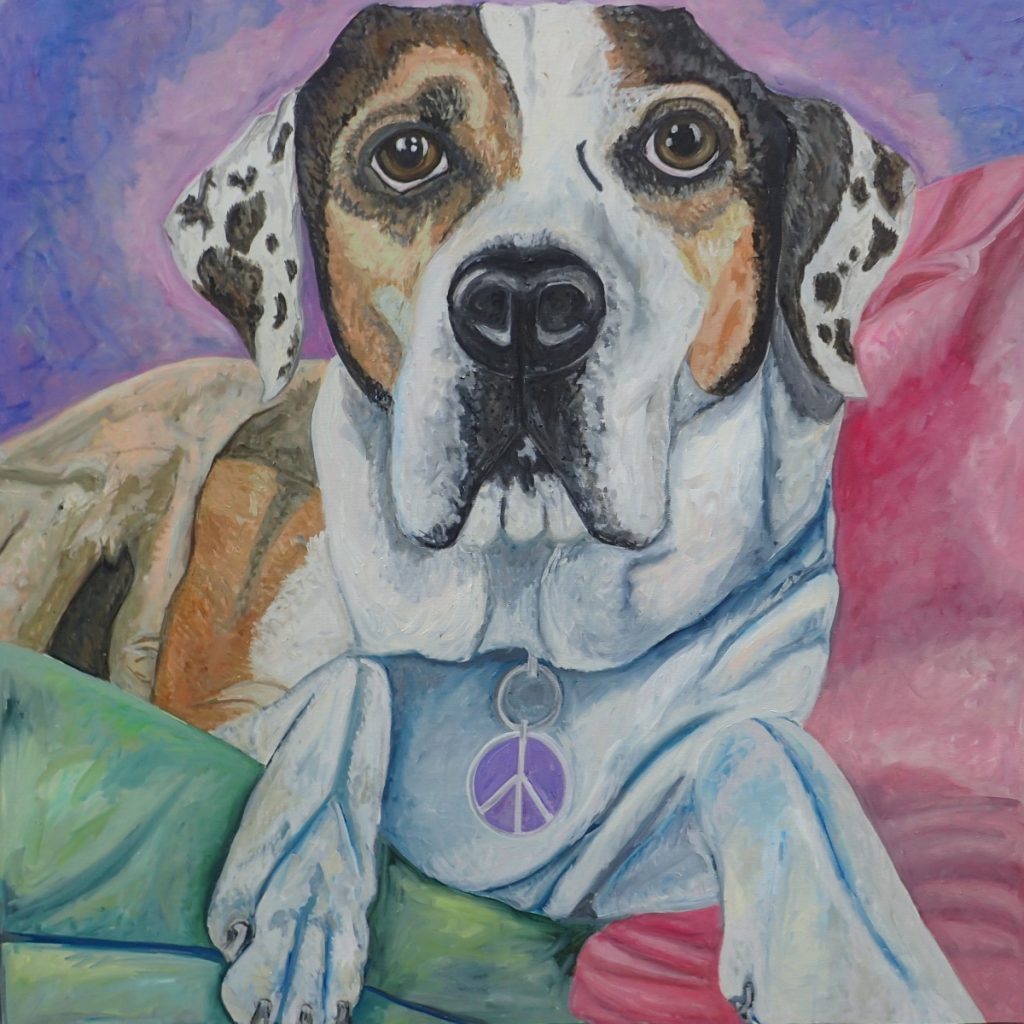 Human: Jennifer Fisher Jones  Decorah, Iowa, U.S.A.
In 2016 my family spent the month of January exploring the country of Belize. The experiences we had there were the sort that changed each of us and will be carried forever in my front pocket. In addition to the gorgeous waters , lush jungles, and dynamic culture I was completely enamored with the dogs we encountered everywhere we went. Many lived on the streets with people caring for them as they were able or inclined. Others had owners, but even those dogs had way  more freedom than those in the states. Dogs could go where they wanted,  when they wanted. The street dogs are most always on the move, looking for food, companionship, and safe, and preferably comfortable places to rest. Disease, fleas and mange are issues that some face. But oh, the FREEDOM! Whose life is better
We spent two weeks on the island of Caye Caulker.   For a small island just one mile across and five miles wide, there were a lot of dogs. I would sit and relax by the sea and see which dogs would come to me.  We met Ipu this way. She came strolling by and simply sat next to me on the a cement embankment. We sat looking out at the sea in this way together  on multiple occasions. We soon discovered that Ipu was friends with the dogs living on the property we had rented during our time on the island. She would come for frequent visits climbing the steps to our cabana to settle for some serious snuggling after a few clandestine snacks from the youngsters.
It didn't take long for the four of us to unanimously come to the conclusion that she was the coolest island dog ever….and if only we lived there we could take care of Ipu. 
Over the course of our time on the Caye,  we made fast friends with the property owners, Monique (you will get to read about her dog Scruffy)  and Maurice and their three dogs. When they were looking for someone to look after the property and dogs for two weeks during the following summer I quickly raised my hand.
I wondered if Ipu would remember me after the 6 months apart. Monique had indicated that Ipu was a bit of a tour guide on the Island. It was her "job" to make sure folks knew their way around and she managed to get paid pretty well doing this as she was far from starving.  Was I just another tourist? 
I looked for her the moment I stepped off the plane. Monique and her crew greeted me, but no Ipu. I tried not to seem desperate (we all know many dogs aren't much into that), but I had some serious longing going on. Once I installed myself in the cabana, Ipu was soon barking at the gate to welcome me. Needless, to say, my heart was full.
A wanderer by nature, I was surprised when Ipu didn't leave my side for the entire time I was there. The other three dogs were accustomed to leashes, where Ipu being a free agent did not require one. Every move I made Ipu followed. If I went to the juice vendor on my bike, Ipu ran alongs side the bike and waited until I had completed the task, If I went into a shop she would wait outside for however long it took until it groceries were in hand. If I went for a swim,  she watched me from the shore intermittently  seeking out shade then returning again to check on me. During these daily movements, I could feel her saying, "I want a real home. You are my person."
One day I went on a snorkeling tour and Ipu followed me all the way to the end of the dock where we were loading up on the boat. I said to another person on the tour, "If she is still waiting on the dock for me when we get back I am going to figure out how to adopt her".
Ipu's no dummy, she wasn't at the end of the sweltering dock, but she was waiting in the shade back at the cabana. She managed to get inside the gate and settle in with the other dogs while I was away.
It took some time, but I did manage to adopt her.  Several months of deliberation and planning with Monique and the Caye Caulker Humane Society were followed with focused sales techniques from past careers to convince my family. Ultimately, many were required to come into agreement that bringing this island icon to Decorah was a good idea.  Factoring that Ipu was getting older and estimated to be about 7 at the time of adoption was a deciding factor.   Ipu has been with us now since March of 2017.
Life is a little different here in the midwest and we have learned the hard way that training is ever so beneficial and a leash is the best way to keep her safe in terrain that is unfamiliar.  Ipu has adapted to the climate and we find her to be wagging and happy most of the time.  
Sometimes I watch her during twitchy dreams and wonder if she is experiencing her former island rhythms and ambling with tourists.  I don't question having brought her to live with us, but imagine she might like an island romp again and ramble up and down Front Street wagging hello to old pals with an occasional bark thrown in to the former competition.  If all goes as planned she'll have that opportunity in the not too distant future.
I am convinced that Ipu thoroughly enjoys having consistent laps to sit upon, plentiful scratches behind the ears, sleeping on any bed in the house in addition to having a food and water that is filled on a regular basis.   She is loved deeply and unconditionally(we repeatedly forgive her dips into the sequestered cat food) and returns this blessing exponentially.  No question, Ipu is my once in a lifetime dog. My only regret is that she didn't find me sooner!