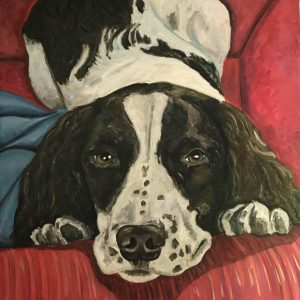 Humans: Lara, Todd, Tate and Thea Schissel, Decorah, Iowa
 One of the best decisions we've made as a family was to adopt Ruby into our lives three years ago.  Uncle Rick and Aunt Dana had invited us to view their final litter of English Springer Spaniel pups, all of which had been spoken for but worth a visit to enjoy some puppy love. When one set of the future owners found out they were expecting twins we had our chance.  
Instant heart melt upon meeting her, but not an instant decision, as we were in the process of moving house and all the usual reasons for proceeding with caution ensued.  A few days later a card with simply the word "Yes" was presented to the kids, ages 10 & 12, to shrieks of joy and surprise.  A whole new world was waiting for us!
Her pedigree papers note her name as Upper Iowa River Ruby Schissel, and she is our precious river-loving dog.  Her favorite pastimes are her people and encouraging us to explore Decorah's river, streams and prairies with her.  Ruby is a friendly, energetic force with a special forte of greeting other dogs in their comfort zone, whether it's to stay back, run full-on hot laps together or anything in between!   Our cat Oliver gets the same consideration from her as well.  She has a passion for finding and chewing limestone rocks and an enduring habit of jumping up on people to say hi.  Hanging out with friends, hunting, boating and swimming are all faves.  
Ruby's frequent adventures call for a constant wash, rinse & repeat cycle. And then the snuggling with our sweet gal.