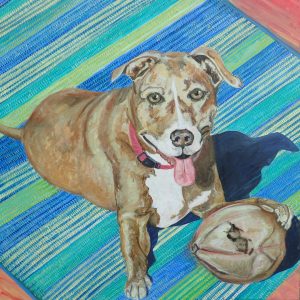 Human: Amanda Jane Badger, Caye Caulker, Belize Central America
 Back in 2004 I had just finished building my little wooden house and was starting to think that for the first time in my life I was leading a stable enough life to have the dog I had always wanted.  Newly engaged, thriving business and lovely little home.  Perfect timing.  Scrumpy arrived at a neighbors dinner party in a box with the white fleck on the end of her tail sticking out – it was wagging.  At 6 weeks or so she was a bundle of cuteness.  
She grew up amongst the greatest of the island animal hierarchy and who by chance were all named after booze.  There was the lovely Guinness, Bobbi's Whiskey, the kittens G and T, and so we decided to call her my favorite drink Scrumpy (hard cider in the UK) – our next dog is Harvey (Wallbanger).
To begin with I worried that she wouldn't bark and that she would be a rubbish guard dog.  But within 6 months I was fielding calls from all around the island asking to shut her up as they could hear her 3 blocks away!  Really.  One time I was on the water taxi and could hear her as we came in to dock.  She was fine when I was home or if she was inside, so I never really believed all the fuss until that boat day!   She adored swimming and adored coconuts.  She would do about anything for that combination and on this island they are plentiful.  She would come out with us on the boat as often as we went, she sat on the bow and barked at the bow wave.  She could dive.  We had a conch fisherman who came in to the beach in front of the house where I used to throw coconuts for her every afternoon.  She would be delighted when she saw the very stern fisherman's little dory.  He sits on his boat in the water about 5 feet deep and 'cleans' the conch.  The meat stays on the boat and the shells get tossed overboard.  Scrumpy would dive down and retrieve them and pop them back in the boat for him.  In all the years I never once saw him smile, but he also never asked her (us) to stop.
She turned 15 years old this April, blind now and arthritic.  She is the most stoic creature I know.  Hard headed, but immensely generous.  She has taught more dogs in this island how to play second fiddle than I can remember the names of!  And, she absolutely can't do without me.